An SSL-built satellite that will provide broadband in Indonesia has just arrived at the SpaceX launch base in Cape Canaveral — Wendy Lewis, the Senior Director of Communications, SSL, a Maxar Technologies Company, posted the following information in the company's blog.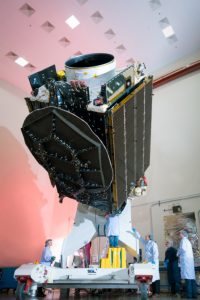 After more than a week on the road, the innovative communications satellite we built for Indonesian satellite operator, PT Pasifik Satelit Nusantara (PSN) has arrived safely at the SpaceX launch base in Cape Canaveral, Florida.
Scheduled for launch early next year, Nusantara Satu, previously called PSN VI, will provide voice, data and video distribution service throughout South East Asia, and it includes Indonesia's first HTS payload. SSL is a leader in HTS technology and built more broadband capacity on orbit today than any other satellite manufacturer.
In addition to this being a high-performance, multi-mission satellite, it features a rideshare service and our next-generation solar electric propulsion system. SSL collaborated with rideshare provider Spaceflight to aggregate additional payloads that will accompany Nusantara Satu to orbit.
I talked to our Group President, Dario Zamarian, and he called out these innovations:
SSL and PSN share a commitment to developing spacecraft that provide robust service for mission-critical applications. Nusantara Satu benefits from multiple SSL innovations including our next-generation electric propulsion system. SSL was able to help reduce the cost of launch for our customer by enabling the satellite to perform orbit raising for an additional payload.
As an important part of the infrastructure that improves broadband connectivity in Indonesia, Nusantara Satu will help build a better world. It acts as a vital link for remote islands and villages to access emergency services, educational opportunities, and other benefits of internet connectivity. In addition to providing broadband service, the satellite's C-band and Ku-band transponders will be used for voice and data communications and video distribution throughout the Indonesian archipelago.
SSL procured the SpaceX Falcon 9 launch on behalf of PSN and worked together with Spaceflight and SpaceX to enable a unique mission that puts one payload into a trajectory toward the moon prior to the satellite bringing an additional payload to its orbit above the geostationary arc. To reduce the cost of launch for PSN, the satellite was designed for a shared launch.
PSN is the first private satellite telecommunications company in Indonesia and a leading Asian provider of a full range of satellite-based telecommunication services.
The CEO of PSN, Adi Rahman Adiwoso, commented on the satellite and working with SSL. He said:
Nusantara Satu satellite is a very important infrastructure for Indonesia. As the first Indonesian High Throughput Satellite, it is another monumental step for PSN to realize its dream and carry on its commitment to provide broadband services across the vast archipelago of Indonesia. Therefore, PSN has selected SSL, a Maxar Technologies company, since both companies share an aligned goal of bringing far-reaching technology to improve lives and create new opportunities for economic growth in remote regions.
Now that the satellite is at launch base, we are looking forward to seeing it lift off soon!
Source: http://www.satnews.com/story.php?number=622103193