Corporate Social Responsibility
Impactful Social Responsibilities
Company Commitment
As the first satellite telecommunication company in Indonesia, PSN is bound to commit on social responsibilities for the society or Corporate Social Responsibility (CSR).
Through CSR programs, PSN is committed to support the community in building a better future and optimizing the advantage of PSN's presence from a social-economic viewpoint, specifically on telecommunication aspect which relates directly to PSN's core business. With the spirit of giving positive impacts, PSN establishes some strategic initiatives as a commitment for: Education, Health, Environment, Infrastructure
Bermakna
According to the official dictionary of the Indonesia language, KBBI (Kamus Besar Bahasa Indonesia), 'Bermakna' is defined as 'giving an important and deep meaning'.
With the paradigm of 'Bermakna', PSN as a business entity is obligated to give meaningful act to its surrounding, in which this takes form through sustainable corporate social responsibility. PSN Bermakna is an initiative with a big goal to develop sustainable business by balancing social, health, infrastructure and environmental contributions.
The main graphic symbol of the logo takes the form of a satellite, in which is the core business of PSN. Various silhouettes that forms the shape of a satellite portrays that PSN gives meaning for social responsibilities that PSN carried.
Toga Hat: PSN Bermakna untuk Pendidikan (Educational focus)
Grafis Palang Merah: PSN Bermakna untuk Kesehatan (Health focus)
Grafis Air & Daun: PSN Bermakna untuk Lingkungan (Environmental focus)
Grafis Alat Berat: PSN Bermakna untuk Pembangunan (Infrastructural focus)
PSN has set some strategic initiatives as form of sustainable social contribution commitment that are classified into four pillars: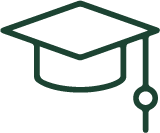 PSN Bermakna Pendidikan (Educational focus)

PSN Bermakna Lingkungan (Environmental focus)

PSN Bermakna Kesehatan
(Health focus)

PSN Bermakna Pembangunan (Infrastructural focus)